Thu, 04/24/2014 - 13:52
Hollande issues 'probable death' notice – and everyone's perplexed
It's not often that the leader of a major Western European nation issues an official statement declaring someone "probably dead".
That's exactly what happened this week here in France.
It kicked off Tuesday, when the AFP reported that a spokesman for the jihadist group MUJAO (Movement for Unity and Jihad in West Africa) called the news agency to say French hostage
Gilberto Rodrigues Leal
had been killed "because France is our enemy".
Rodrigues Leal, a retired French aid worker, was kidnapped in November 2012 and held hostage in Mali.
Shortly after the AFP report, French President François Hollande issued a statement noting that there was "every reason to believe that our compatriot died several weeks ago due to the conditions of his detention".
But the French government stopped short of officially confirming his death.
Hollande's statement left many intelligence officials and counter-terror experts scratching their heads in bewilderment.
Security and intel guys are often very reluctant to weigh in on political decisions – on the record. They tend to stick to their business of monitoring threats.
But it was well known, in counter-terror circles, that Rodrigues Leal had been dead for at least five months. Given the lack of concrete evidence, his family, quite understandably, had not been informed.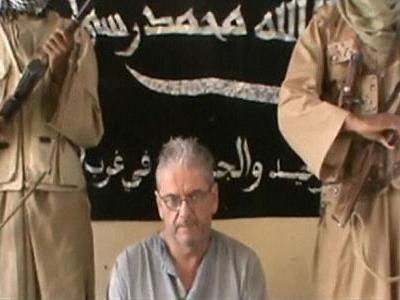 There are many plausible theories as to why MUJAO didn't make any announcement over the past few months. Jihadist groups holding European hostages are often negotiating releases in exchange for hefty ransoms and/or the release of their imprisoned colleagues. In such cases, groups like MUJAO hope to hold as many bargaining chips as possible.
Just two days before the MUJAO-AFP phone exchange, French Foreign Minister Laurent Fabius had said, "We haven't had any news for a long time. We are in contact with the family but we are extremely worried." That's the sort of carefully crafted official statement we expect from a foreign minister.
But for the president to issue a hedging, fuzzy statement of likely death is not...well...presidential. One can only imagine the trauma of uncertainty that Rodrigues Leal's loved ones are living through.
It's hard to get into the heads of heads of government and, to paraphrase the Bard, uneasy lie those heads. So, I'm not getting into the decisions behind that presidential statement.
When French hostages come home
But it's certainly true that the French have a particularly personal, emotional narrative on hostage stories.
Giant photographs of French citizens in captivity occasionally drape the walls of town and city halls across the country.
Hostage returns turn into state occasions with former captives arriving in Paris to a waiting French president and foreign minister on the tarmac. The heart-warming images of relieved families greeting their loved ones drown out the rumblings of million-dollar ransom payments that are often paid, but never officially acknowledged.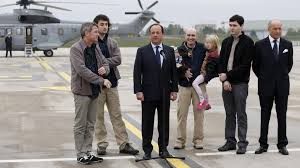 Sometimes, there are even negotiated prisoner releases that are mentioned in the media below, or after, the headline-grabbing "back home safe on French soil".
Fallout of a prisoner exchange
The roots of the latest captive tragedy can probably be traced to a happy hostage story four years ago.
In February 2010, when French aid worker Pierre Camatte was released from AQIM (Al Qaeda in the Islamic Maghreb) captivity,
news reports
noted that, he was "freed in exchange for four Islamist prisoners held by Mali – a move that angered Algeria and Mauritania".
Mauritania was so upset by the Malian release of Islamist prisoners – including a Mauritanian national – that the country
temporarily recalled its ambassador
to Mali in protest over the "flagrant contradiction of judicial co-operation accords and security co-ordination agreements".
Turns out that the Mauritanian national released in exchange for Camatte's freedom was none other than a certain Hamada Ould Mohamed Kheirou, who went on to form MUJAO, according to French media reports.
A Tilemsi Arab hailing from the herding groups of the Tilemsi Valley in what is now northern Mali, Kheirou is a veteran of former Libyan leader Muammar Gaddafi's war in Chad. In 2005, he was arrested and detained in the Mauritanian capital of Nouakchott. But after a few months in prison, he managed to escape disguised as a woman, according to the French weekly,
Jeune Afrique
.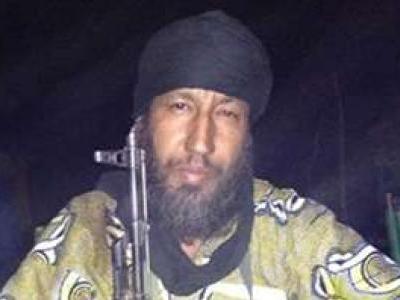 In 2009, he joined a katiba (brigade) headed by Mokhtar Belmokhtar, then an AQIM commander who went on to earn international notoriety for his audacious January 2013 attack on the In Amenas gas facility in southern Algeria.
But forget Belmokhtar, let's get back to Kheirou. The Mauritanian jihadist was captured again in 2009 and imprisoned, this time by Malian authorities in Bamako, where he stayed until the 2010 prisoner release that liberated Camatte, according to the French monthly,
Le Point
.
A year later, toward the end of 2011, Kheirou formed MUJAO.
MUJAO and Boko Haram: West African brothers-in-arms
Many analysts believe Kheirou and his fellow AQIM jihadist Belmokhtar were chafing under AQIM emir
Abdelmalek Droukdel
's leadership. An Algerian national, Droukdel is widely believed to favor Algerians for senior positions in AQIM.
MUJAO's stated aim is to spread jihad in West Africa and the group often cites colonial-era Islamist preachers from the region as their "ideological ancestors".
But it was not until 2012 that MUJAO got the opportunity to flex its regional muscles when a military coup in Mali led to a power vacuum in Bamako, which in turn sparked a jihadist takeover of northern Mali.
As various militant groups divvied up a region the size of France, MUJAO and Belmokhtar's groups established themselves in the northern Malian city of Gao. That's where MUJAO kidnapped seven Algerian diplomats in an April 5 attack on the Algerian consulate in northern Mali's largest city.
The rebel control of northern Mali saw all sorts of fighters from across the region head to the new jihadist haven. These included Boko Haram militants from Nigeria, according to Malian officials. In an April 2012
interview with AFP
, Abu Sidibe, a regional deputy, noted that, "There are a good 100 Boko Haram fighters in Gao…They're not hiding. Some even speak in the local tongue, explaining that they are Boko Haram".
More than a year later, French Foreign Minister Fabius corroborated the reports when he announced that French troops had found documentary evidence that "terrorists from Boko Haram were being trained in the Ifoghas Mountains" – a remote mountain range in northern Mali.
Fabius was speaking at a security conference in Morocco months after the launch of the French military operation to wrest northern Mali from jihadist control.
The French mission – known as Operation Serval – succeeded in wresting control of northern Mali and by August 13, the reunited West African nation even succeeded in holding presidential elections.
France is now winding down its force in Mali from a peak of around 5,000 soldiers to around 1,000 after the spring. A UN peacekeeping force has taken over from a pan-African military mission, which has been supporting the French troops.
A bloody, bruising year for Mali's jihadists
There's little doubt the French military intervention crippled the jihadist onslaught in Mali.
"If you look at the statements coming from the leadership of AQIM now, it's clear they are really focusing their efforts on Tunisia and Syria. We can assume they've lost most units in northern Mali and are therefore refocusing on the situation in Tunisia – there's no more mention of Mali," said Jean-Paul Rouiller, director of the Geneva Centre for Training and Analysis of Terrorism.
Earlier this month, five kidnapped Malian aid workers were liberated in a French military raid in Timbuktu. Last month, a senior MUJAO commander, Omar Ould Hamaha – known as 'Red Beard' because of his henna-dyed whiskers – was killed in a French air strike. Hamaha's death came exactly a year after France confirmed that top AQIM leader
Abou Zeid
had been killed in the Ifoghas Mountains.
It's been a bloody, bruising year for jihadist groups in northern Mali. But some security experts warn that they could be regrouping. "The French intervention dealt a blow to the jihadi groups, it dispersed them and forced them to find new methods of acting," said Imad Mesdoua, a London-based political analyst. "But it didn't get rid of them."
Whether they're trying to regroup or redirecting their attention to other battle zones, AQIM and its splinter groups could do with a hefty cash infusion.
Right now, there's only one French national still in captivity in Mali. According to Fabius, there are indications that Serge Lazarevic, who was abducted in 2011, is still alive. In media interviews, his family has said they continue to hope for his release.
Meanwhile, a French government spokesman has responded to the Rodrigues Leal family's anger and criticism, noting that France never "drops" a citizen in captivity, but "we do not succeed every time".
As for Hollande, he has assured the family that the death of a French hostage will "not go unpunished". Well, at least that's presidential.
Tags for all blogs :
Comments or opinions expressed on this blog are those of the individual contributors only, and do not necessarily represent the views of FRANCE 24. The content on this blog is provided on an "as-is" basis. FRANCE 24 is not liable for any damages whatsoever arising out of the content or use of this blog.