Thu, 05/21/2015 - 23:56
A new brute takes over Palmyra's notorious Tadmur Prison
The
fall of Palmyra to ISIS
has sparked two divergent narratives in two different worlds: a colossal loss for one, liberation for the other. And therein lies the variance between the world -- and its historic legacy -- as we see it, and the way the enemy does.
While international headlines have focused on the mounting alarm over the fate of Palmyra's ancient ruins, there's been a deafening silence about the UNESCO world heritage site from ISIS. Instead, the chatter on Islamist social media platforms is focused on a site hailing from the French mandate era that gained notoriety over four decades of Baathist control under "Assad Senior" (former Syrian President Hafez al-Assad) and his son, Bashar al-Assad.
"The Islamic State has taken Tadmor Prison, a liberation for the Arab world," tweeted an ISIS sympathizer gleefully this morning as the international community was still processing the horrific news.
Tadmor, or Tadmur, is the Arabic term for Palmyra and is also the name of one of the world's most notorious prisons located near some of the world's most beautiful ancient ruins.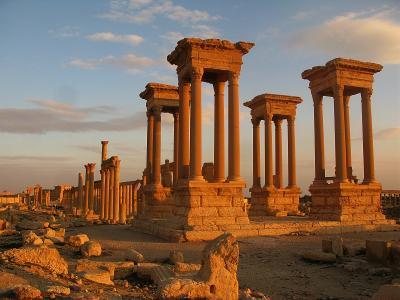 Situated in the deserts of eastern Syria about 200 kilometers from Damascus, Tadmur Prison regularly features on lists of the world's "
10 Most Dangerous Prisons
" or history's "
50 Craziest Prisons
". The pithy listing descriptions flippantly -- but accurately -- summarize the horrors of the facility. "Location: Palmyra, Syria. Amenities: Random inmate abuse," says one. Another notes, "So much blood has spilled at the Syrian prison that nothing short of burning it to the ground will clean the soulless desert lockup."
A few ISIS sympathizers who did mention the world heritage site on their Twitter posts did so only to sneer at the world's concern over the loss of "old stones" as they dismissed Palmyra's magnificent 2,000-year-old colonnaded streets, temple and theater. "The Remains of Roman empire statues in #Palmyra is more important to the West than the 10,000 Prisoners being tortured in Tadmur Prison.!!!"
tweeted
a user who goes by the name of Ibn Ahmed.
It's the same dismal lack of understanding I encountered more than a decade ago after the Taliban blasted two giant Buddha statues that had gazed down on the Bamiyan plane and the caravans making their way on the ancient Silk Route for centuries.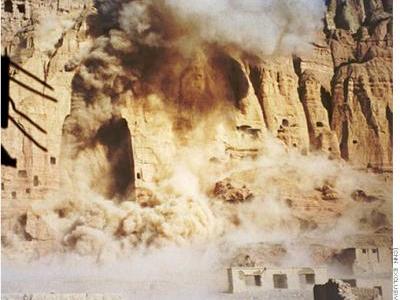 On a crackly phone line from New York to Kabul -- routed via Pakistan -- then-Taliban Foreign Ministry official Sayed Rahmatullah Hashimi railed at me for daring to ask why his Islamist movement had robbed Afghans – and humanity – of an ancient heritage. "The West is worried about stone statues when Afghans are dying," he countered. "Afghan children are dying and those statues are all the West cares about."
I tried explaining there was really no link, that Afghan children should not be dying and the statues should not have been blasted. But he wasn't listening and in any case, I wasn't going to change anything. Those ancient Buddha statues were gone. I got my quote and hung up.
If ISIS does anything to the Palmyra ruins, and the destruction provokes an international outcry, you can be sure the jihadist group will incorporate the symbolic value of Tadmur Prison to dismiss the global outrage.
'Kingdom of death and madness'
Originally used as a French military barracks, Tadmur Prison – "or the kingdom of death and madness," as it's called -- gained notoriety in the 1980s as news of a prison massacre began to filter out from the eastern Syrian desert.
Nobody knows exactly how many prisoners were killed -- figures range from 500 to 800 to "a few thousand". What's clear is the June 1980 massacre was conducted by Hafez al-Assad's brother, Rifaat al-Assad, in retaliation for a failed assassination attempt against the president.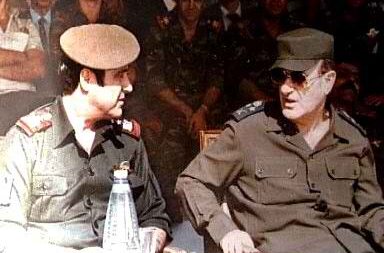 Over the next few decades, Tadmur's noxious reputation increased with every account from the lucky few who managed to get out. "The prison of Tadmur is very well known in the Arab world," said Wassim Nasr, FRANCE 24's expert on jihadist movements. "So many people of different nationalities, different political backgrounds, different religions – Muslims, Christians – were left there for many years with no contact with their families, and torture was rampant."
A year after coming to power, Bashar al-Assad closed down the facility in 2001. But a decade later, with an uprising spreading across the country, Tadmur was opened in June 2011 with around 300 people arrested for participating in anti-government uprisings.
The Assads' old torture chambers were back in business.
Nearly four years later, Syria's craziest, most dangerous jail has fallen to ISIS control.
Assad's chickens come out to roost
"Assad murdered hundreds in #Tadmur #Palmyra in 1980. The consequences have come back with a vengeance,"
tweeted
Matthew Ward, who runs the site,
HistoryNeedsYou.com
.
A video clip posted on jihadist accounts showed ISIS fighters setting alight a giant Assad poster inside the prison complex, cheering as the flames engulfed the Syrian dictator's face under a pink twilight sky.
An activist from Homs province (where Palmyra is located) told the Associated Press that the regime had "transferred thousands of detainees" from Tadmur Prison to a facility near Damascus shortly before the ISIS takeover.
If that's true, it means there's one prison facility near the Syrian capital that's crammed chock-a-block with unfortunate inmates as we speak.
The Homs activist said he could not provide definitive figures, but he believed thousands of prisoners were still in Tadmur when ISIS stormed in.
It wasn't long before
reports
started to emerge that 27 Lebanese political prisoners had been freed from Tadmur and a photograph of a group of bearded men celebrating began to make the rounds on Twitter.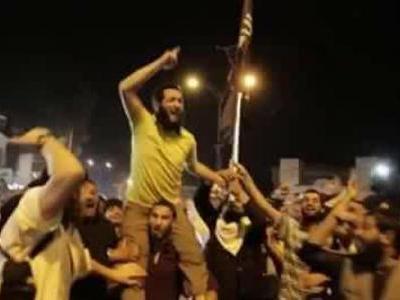 But the Lebanese interior ministry
denied
any knowledge of Lebanese nationals being released from Tadmur and an NGO supporting families of detainees told a Lebanese TV station that the report was unconfirmed.
Syria is believed to have "forcibly disappeared" -- as it's known in the region – hundreds of Lebanese nationals during the 1975-1990 civil war and decades of Syrian domination before the 2005 Syrian pullout of Lebanon.
'Opening prisons' full of sympathizers
The propaganda value of ISIS releasing Tadmur prisoners – many of them Islamists, particularly the Muslim Brotherhood members Assad Senior so despised – is immense in jihadist circles.
"If we're sure they liberated prisoners, this will have a huge, huge echo in the Arab world as a whole because besides Syrians, Palestinians, Lebanese, Iraqis, so many nationals have been forgotten there. This will contribute to the aura of ISIS because, since its creation, one of their objectives is 'opening prisons' as they say," explained Nasr. "On the one hand, they'll get more recruits because many of the prisoners are sympathizers of their ideology. On the other, they'll get a reputation as liberators, which is important for populations who have lived under dictatorships for decades."
To be sure, the Twittersphere erupted with translations and retweets of the likes of, "IS is my only hope -- after God -- to free my father & brother in Tadmur prison, after 5 years of detention."
Forever cursed corner of the Syrian desert
But for some former inmates of Tadmur, the fall of the notorious jail to ISIS offers no solace at all.
"I think it's very important for the prisoners to get out, that's most important. But on the other hand, I wish the liberator to be the Syrians, not ISIS," Barra Sarraj, a former Tadmur inmate, told the
BBC
.
Sarraj served nine years (1984-1993) at Tadmur, a place he calls a "symphony of fear," where inmates experienced, as he puts it, "all synonyms of fear" and torture was rife.
Like many Syrians, Sarraj is still trying to figure how and why Assad lost control of a site like Tadmur, as well as a military airport with a large arms stockpile. "It's a turning point. I consider the turning over of this most notorious prison in Syria is a big blow to Assad. But it's a turning point toward, I'm afraid, a bloodier chapter," he said. "I'm not optimistic. I am surprised that ISIS was able to get to Tadmor. I do not understand it. Where is the coalition? What happened? I do not understand it."
One thing is clear though: this blighted place situated so near and yet so far from the beauty of one of the world's most magnificent ancient sites has a new brutal master. In that respect, this built-up patch of the eastern Syrian desert seems forever cursed. As one not very grammatically correct wag
tweeted
, "Someone call Rifat Assad & tell him his soul mate in savagery Khalifa Ibrahim took over Tadmor Prison & will make theatric scene out of it."
Tags for all blogs :
Comments or opinions expressed on this blog are those of the individual contributors only, and do not necessarily represent the views of FRANCE 24. The content on this blog is provided on an "as-is" basis. FRANCE 24 is not liable for any damages whatsoever arising out of the content or use of this blog.