Tue, 08/09/2016 - 21:11
Brothers in arms make rival claims for Quetta attack
There's no dearth of militant groups or terror backers that can claim responsibility or be blamed for
Monday's attack on a Quetta hospital
, and in the aftermath of the deadly assault in the capital of Pakistan's Baluchistan province, they were all on display.
Shortly after the suicide attack, Baluchistan's chief minister, Sanaullah Zehri hinted at the involvement of Indian intelligence agency, RAW (Research and Analysis Wing).
"RAW's involvement could not be ruled out in the suicide attack as it conducted such attacks in Quetta and other areas," Zehri told the leading English language daily,
Dawn
.
The impoverished southwestern province of Baluchistan has a long running separatist movement and an even longer list of grievances against the Pakistani central government that has seen violent crackdowns on nationalist groups, militants, activists, journalists and anyone pursuing an "anti-state" agenda, as the army terms it.
Every attack in Baluchistan triggers the old "blame India" game, a charge that would have credibility if only Pakistan managed to provide concrete evidence that its arch foe is indeed supporting Baloch nationalist groups.
But they never manage that and only succeed in irking other regional powers, such as Iran. On a recent visit to Pakistan, Iranian President
Hassan Rouhani had to deny
Pakistani reports that the subject of RAW's involvement in Baluchistan came up during his talks. It was followed by a stern
official statement
from Tehran warning of "negative implications on the fraternal and friendly atmosphere of Iran and Pakistan" following which, Pakistani officials backed off the old script.
As they did Monday, when the jihadist bigwigs in Pakistan started issuing competing claims for the horrendous attack on a hospital that claimed more than 70 lives.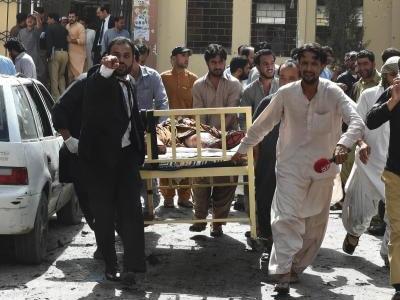 First came an email to local journalists from a familiar figure on the jihadist circuit.
"The Tehreek-e-Taliban Pakistan Jamaat-ul-Ahrar takes responsibility for this attack, and pledges to continue carrying out such attacks. We will release a video report on this soon," said the email from the group's spokesman Ehsanullah Ehsan.
Back in the day, Ehsan was the spokesman for the al Qaeda-linked Pakistani Taliban, also known as the TTP or Tehreek-e-Taliban. But somewhere along the way, Ehsan deserted the mother Taliban ship, when the splinter group Jamaat-ul-Ahrar [aka JA or JUA] announced its presence in 2014.
Jamaat-ul-Ahrar's chief, former journalist Omar Khalid Khorasani, was a
particularly vicious militant
, even by jihadi standards, and the fact that he managed to woo Ehsan from the TTP as his spokesman added to the new splinter group's weight.
The combined media skills of Khorasani and Ehsan also made Jamaat-ul-Ahrar a prolific producer of jihadist propaganda. The group's English language magazine Ihya-e-Khilafat, put out realms of slick jihadist propaganda and at one point, it seemed like Jamaat-ul-Ahrar was fashioning itself into an arm of ISIS [also known as the Islamic State group or Daesh].
While Jamaat-ul-Ahrar never claimed official "
bayat
" -- or a pledge -- to the Syria-based group, Ihya-e-Khilafat regularly praised ISIS and referred to ISIS chief Abu Bakr al-Baghdadi as the caliph, sparking reports that the new group was indeed the ISIS arm in the region.
But the fine print told a different story, with experts noting that Jamaat ul-Ahrar referred to Baghdadi as caliph without the honorific "
amir al-mumini
" (leader of the faithful), which can make all the difference in the world of jihadi text analysis.
Sure enough, the new splinter then appeared to be re-aligning itself with its parent group until Monday's claimer confirmed it was back in the Taliban fold with a copyeditor's nightmare name of Tehreek-e-Taliban Pakistan Jamaat-ul-Ahrar.
Such is the fluid, opportunistic world of Pakistani jihadist groups, where militants fall out, kiss and get back, and kill together again.
Then came the ISIS claim. "A martyr from the Islamic State [of Iraq and the Levant] detonated his explosive belt at a gathering of justice ministry employees and Pakistani policemen in the city of Quetta," the armed group's Amaq website announced a day after the attack.
Overplaying or denying the Daesh threat
The ISIS v. al Qaeda competition in South Asia has been dominating the jihadist wonk circles over the past few years and threatens to trap governments in a state of perennial discourse at the cost of actually doing something about a very serious threat under whatever name or jihadist acronym.
In Afghanistan, the government has been accused of playing up the ISIS threat to secure more international backing and counter-terror resources. In Bangladesh, the government is in deep denial, leading to an appalling security situation that has seen secular bloggers killed at regular intervals until the horrendous July 1 attack on Dhaka's Holey Artisan Bakery that killed 29 people, and exposed the government's failure to tackle a growing jihadist threat. And still, the Bangladeshi government is loathe to admit it has a serious Daesh problem.
In Pakistan, the government has largely been in denial mode despite a series of small scale attacks by militants seeking allegiance to ISIS and crackdowns on militants aligned with the Syria-based group.
In February, when local media reported that Pakistan Intelligence Bureau chief Aftab Sultan had told a parliamentary panel that ISIS was coordinating with militant groups and that hundreds of people had left Pakistan to join its fight in Syria, Pakistani officials
categorically denied
the group had a formal presence in Pakistan. "Let me reiterate that there is no organized presence of Daesh in Pakistan," foreign office spokesman Nafees Zakaria told reporters in Islamabad, without providing further details.
Working together the old Pakistani jihadi way
When ISIS issued a competing claim of the Quetta hospital attack, analysts immediately expressed skepticism over the recent development. "The ISIS claim seems very unconvincing," Imtiaz Gul, director of the Islamabad-based Center for Research and Security Studies, told Reuters. Meanwhile Muhammad Amir Rana, head of the Pakistan Institute for Peace Studies noted that, "The claim of responsibility by Jamaat-ul-Ahrar is more credible."
The fact is, Pakistan is in such a soup of jihadist groups, it hardly matters which combination of alphabets or acronyms you scoop up in your spoon. The Pakistani state lists more than 40 organizations as terrorist groups and the big ones, such as the TTP and Lashkar-e-Taiba (LeT), produce splinters of splinters that remarkably aren't that splintered from the main trunk in the first place.
The leadership of groups such as Jamaat-ul-Ahrar could be a rival to both the Pakistani Taliban and the fledgling Islamic State in Khorasan, the official name for ISIS in the Afghanistan-Pakistan region. It could equally cooperate with either of the two terror groups if the situation demanded.
Unlike in Syria, where ISIS is waging a deadly war against other Islamist groups, in Pakistan, militant groups are a remarkably cooperative bunch, capable of putting aside rivalries and differences if and when the need arises. This after all, is the cradle of modern global jihadism. The post-2011 Arab jihadist stomping grounds are like parvenu skyscrapers inhabited by anonymous, atomized neighbors compared to the Pakistani historic quarters, where everybody knows everybody else's name and everyone gets by a little help from their friends.
In the tribal areas, the militants are held together by their Pashtun ties that bind. Every now and then a leadership struggle may see one tribal group within an organization vying for control over the other. But in the long run, they're all bound by a common language, a common code called the Pashtunwali, and a common commitment to a conservative form of Islam complete with conservative cultural values.
Pakistani jihadist groups by now also have a long history of working with outsiders, particularly Arabs, and can draw on their experience when it comes to cooperating or forming loose alliances.
The problem in Pakistan is the fertile jihadist soil that nurtures militant Islamist groups, not the branches that spurt and intertwine high up above.
Differentiating jihadi groups
Every now and then, the Pakistani military launches an anti-terror operation -- complete with a rousing operation name -- in the tribal areas amid much news coverage and all sorts of security promises. But what it really amounts to is just soldiers thrashing around the leaves.
The latest military mission, called Operation Zarb-e-Azb, was launched in June 2014 in North Waziristan and has contributed to an overall security improvement with fewer of the spectacular attacks the country experienced during the brutal 2007-2013 period.
But the operation was never extended to the Punjab, Pakistan's most populous province and home to jihadi groups with close ties to the country's intelligence agency, the ISI (Inter-Services Intelligence). Punjab-based groups, such as the outlawed Lashkar-e-Taiba, tend to concentrate their activities on Indian-administered Kashmir.
The Pakistani military did a remarkable job flushing out local and foreign militants in the tribal areas, following a "seek, destroy, clear, hold" strategy. But it failed to address its broader policy of differentiating between jihadi groups that target Pakistan from those targeting India and Afghanistan. As former Pakistani ambassador to the US, Hussain Haqqani told
CNN
, "They [the military] befriend one set of groups and they act against the other. Unfortunately the jihadis don't think that way. They basically move seamlessly between groups and every few weeks or months they try to show to the Pakistani authorities that they are alive and well, which basically proves that Pakistan's policy is inadequate and wrong." Haqqani went on to note that, "the sooner Pakistan makes no distinction between jihadi groups and operates against them, the easier it will be to eliminate them."
But that soon never seems to arrive. The Pakistani military today continues to use jihadi groups against Baloch nationalists inside Pakistan while supporting groups that operate in Indian-administered Kashmir and in Afghanistan.
Baluchistan is particularly blighted by this lack of policy foresight. The military behaves like a stern parent-gone-rogue in the vast, resource-rich yet impoverished province. Journalists are not allowed to report in Baluchistan without army approval, reporters get called in by army high command and delivered lectures on being patriotic citizens if their reports reveal the realities on the ground, and the crackdown on human rights has been extensive.
Pakistani Prime Minister Nawaz Sharif's government is attempting to address the province's economic woes, as well as the national energy shortage, with a gas pipeline linking Baluchistan to China, known as the China-Pakistan Economic Corridor (CPEC). The pipeline would see China extend its reach right up to the Arabian Sea port of Gwadar, a prospect that fills neighboring India with dread.
But the people of the subcontinent have borne the brunt of their suspicious, truculent military and political leaders for way too long and it's time to build economic ties across the region, not follow arcane, shadowy policies of proxy battles via militant groups.
Comments or opinions expressed on this blog are those of the individual contributors only, and do not necessarily represent the views of FRANCE 24. The content on this blog is provided on an "as-is" basis. FRANCE 24 is not liable for any damages whatsoever arising out of the content or use of this blog.