Wed, 10/19/2011 - 12:27
The Burma Conspiracy: Sanctions Debate Intensifies
The signs were clear the night I took my first stroll through the then Burmese capital of Rangoon – and they were in red.

Gay Chinese lanterns dangled outside restaurants, neon signs in Chinese characters shone from street corners. Buntings and door tassels – in red and gold – swished in the mild coastal winter breeze. A famished visitor that night was more likely to chance upon Yunnan rice noodles – a staple of the Chinese province bordering Burma – than khau-swe, the Burmese condiment-speckled, noodles-in-broth concoction.

That was back in 2004, four years after Chinese businessmen in Rangoon allegedly lit firecrackers to celebrate the 2000 US Congress vote to extend China's PNTR (Permanent Normal Trade Relations) status.

I'm not sure if it's true – I wasn't there – but I heard that story so often in Burma that I figured there was a message in the sheer scale of retelling.

The irony of celebrating a US Congressional bilateral trade vote in sanctions-hit Burma was rich. My embarrassingly plush Rangoon hotel, for instance, could not honor US or European credit cards. Guests had to pay for their rooms in cash.

Chinese businessmen in Burma however had no such problems.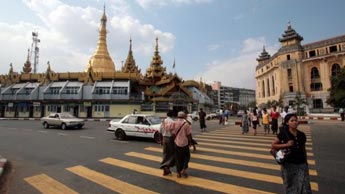 The 1990s economic reforms had parted the Bamboo Curtain shrouding a nation that was, for decades, hermeneutically sealed by the "Burmese Way of Socialism" – a paranoid, isolationist national policy.

The Burma-China border was reopened, Chinese businessmen were flocking into Burma, and their government had snagged massive infrastructure agreements and arms deals with the Burmese military junta.

I was in town with a group of four other US journalists on a rare UN-sponsored fellowship. Foreign journalists do not easily obtain visas to Burma and I haven't revisited the hauntingly beautiful Southeast Asian nation since.

But when I encounter anyone who has just returned from Burma, I invariably grill them for stories and insights of their trip.

From their accounts I gathered that the Chinese influence is growing in Rangoon, with Chinese goods flooding the markets and new shopping malls. As for Mandalay – the second-largest city with a blessedly exotic name – it has turned "totally Chinese," I've been told.
Solutions for the 'Malacca Dilemma'

Burma, a resource-rich, yet impoverished country with which China shares a 2,185-kilometer border, is enormously useful for resource-hungry, fast-developing China.

On the geostrategic front, Burma's importance was highlighted in 2003, when Chinese President Hu Jintao publicly used the term, "Malacca Dilemma" – a China policy wonk phrase to describe the marine chokepoint near Singapore through which 80 percent of China's oil imports pass.
Chinese officials have long worried that any conflict around the Malacca Strait could cut off their foreign oil supplies. The answer, strategists note, would be a land access, via Burma, to the warm water ports of the Bay of Bengal.

All this makes India, another rising Asian power on Burma's western border, ill with worry. Over the past few years, New Delhi has been opening up to the powers-that-be in Naypyidaw, earning some finger-wagging from President Obama for dealing with the nasties.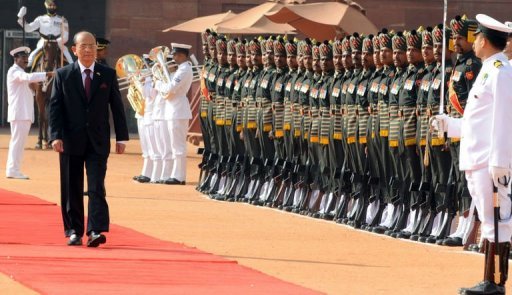 India, we hear, is currently "rolling out the red carpet" for the visiting Burmese leader. But let's be honest, India's the carpetbagger here and official Indian foreign policy is as ineffectual as China's is organized with Indian influence playing a dull opening act to China's rock-star draw.
More than a decade after the US and Europe slapped economic sanctions on Burma following the military's crackdown after the 1990 elections, the West had lost the game to China. That was evident.

What was less evident though, was how ordinary Burmese viewed China's growing influence. From my conversations in Rangoon and the northern Burmese state of Shan, all I got was a sense of polite Burmese indifference. The Chinese? Oh yes, they're everywhere. No, Chinese investments have not changed our lives – for better or worse. The Chinese businessmen are just doing their thing, hiring their people, working hard, making money – as you would expect them to…

But then it's not easy getting a journalistic pulse of a nation ruled by an all-seeing, repressive military junta, and so I left it at that and proceeded to spend the next few years covering the usual hotspots.

Damning a dam, releasing prisoners

Imagine my surprise over last week's news that Burma had shelved a Chinese $3.6 billion dam project that many Burmese opposed.

Bowing to unprecedented domestic opposition, Burma's newly-appointed President Thein Sein announced that he was following "the will of the people" by stopping the controversial Myitsone Dam project on the Irrawaddy River in Burma's northernmost Kachin state.

Apparently many ordinary Burmese are a lot more resistant to ecologically damaging projects that solely benefit China than they led me to believe – or maybe the opposition has been mounting over the past seven years.

There's been a slow drum-roll of reforms since President Thein Sein, a retired senior army officer, took office in March.

Burmese opposition leader and Nobel Peace Prize laureate Aung San Suu Kyi was released last year after 15 years of house arrest. Thein Sein, a retired military man who is nevertheless Burma's first civilian head-of-state in half a century, has started a cautious dialogue with Suu Kyi, the biggest thorn in the junta's side.

On Tuesday, the Burmese government announced it would release more than 6,300 prisoners in a mass prison amnesty. The news was greeted with cautious optimism, with activists wondering whether Burmese political prisoners – such as popular comedian and dissident Zarganar – would be released.

Wednesday dawned and the first batch of released prisoners featured prominent dissidents, including Zarganar and Buddhist monk Shin Gambira, a leader of the All-Burmese Monks Alliance.

Once again, cautious optimism greeted Wednesday's news, with some representatives of Burmese rights groups in exile warning that the junta had a "hidden agenda to appear credible and respectable to the international community" ahead of Burma's bid for ASEAN's rotating presidency in 2014.

All this sounded very familiar.

When I was in Burma back in 2004, the chatter was dominated by the junta's image-dressing ahead of the 2005 ASEAN presidency. We even wondered, in a pathetic display of self-importance, if our Burmese visas were part of the junta's public relations drive to secure that chair.

In the end it didn't matter of course. Faced with the likelihood of Malaysia blocking the bid, Burma withdrew its candidacy.

To go or not to go, that's the question

What is new though, is the change in Western discourse on Burma's economic sanctions.

"Over the past few years, there's been a greater awareness of the shortcomings of the sanctions policy," International Crisis Group's Asia Program Director Robert Templer told me in a phone interview from the US. "The international community has realized that the isolation has pushed Burma into the hands of the Chinese."

But don't expect the sanctions debate to go uncontested. This issue has been raging for a while now and there's a very vocal, very organized section of the Burmese human rights community opposing any talk of re-thinking the economic sanctions.

While Western governments have not gone so far as to impose a travel ban on Burma, there's a lobby discouraging tourists from visiting the land of the golden stupas.

My battered old Lonely Planet Burma guide had a chapter on whether tourists should travel to Burma that extensively featured the London-based Burma Campaign UK. It was so blunt and forbidding, I had visions of my dollars fattening the inscrutable generals' pockets as they lorded over starving forced laborers.

But that, it seems, was too "soft" for some UK-based groups. In 2008, the TUC (Trade Union Congress) along with Burma Campaign UK and a few other groups launched an online campaign calling for the boycott of Lonely Planet's Burma guide, claiming travel to the Southeast Asian nation was unethical and helped prop up the military.

Make no mistake, the Burmese military junta is a nasty piece of work. But the sanctions have not reduced their nastiness. Why should it when China is around the corner, ready to provide invaluable economic aid and political support at the UN?

Everybody I spoke to in Burma, to a man, told me the sanctions were defeating its purpose and they should be lifted because it was very difficult to make ends meet.

"Does that mean you disagree with 'The Lady'?" I asked, using the popular Burmese way of referring to Suu Kyi.

My Burmese interlocutors would invariably look pained and proceed to lecture me on the greatness of The Lady.

"But she does not support the lifting of sanctions," I pursued ruthlessly, "and I respect 'The Lady' – we all do. Should I be telling my audiences not to respect her views on the sanctions and travel to Burma?"

Quiet squirming seconds later, I would get an answer that basically went: Look, we respect The Lady, but on the sanctions and tourism issue, she's been too intransigent, which we can understand from a woman who has made such sacrifices for her country. But honestly, believe me, we need tourists, we need anything that will enable us to engage with the world. The military isn't going anywhere, we need to be realistic, we need reforms, not isolation.

Shortly after I returned from Burma, when a couple of friends asked my opinion about whether they should go to Burma, my response was an honest, "I really don't know."

But since then, I've read two highly recommended books by Thant MyintU, a former UN official who also happens to be the grandson of U Thant, the respected former UN Secretary General, who ran afoul with then Burmese dictator Ne Win before dying of lung cancer in New York.

Thant MyintU was a former supporter of the sanctions, but he now calls them "counterproductive and dangerous".

To be sure, MyintU has a number of vociferous detractors on the Web who accuse him of not "knowing" Burma. But I've read "The River of Lost Footsteps" and his recent, "Where China Meets India" and I think he's spot-on.

Even the Lonely Planet "Should You Go" chapter now is much more nuanced than it used to be. "Many locals point out that over the past decade and a half the tourism sector has become increasingly privatized – visitors can now choose from several hundred private hotels and keep up to 80 percent of expenses in private hands," it says.

The other day, a friend of mine told me he was planning a trip to Burma, but he wasn't so sure because of the "ethical issues" he explained. My answer was a prompt, "Just shut-up and go".
Comments or opinions expressed on this blog are those of the individual contributors only, and do not necessarily represent the views of FRANCE 24. The content on this blog is provided on an "as-is" basis. FRANCE 24 is not liable for any damages whatsoever arising out of the content or use of this blog.